KYIV, Ukraine — Kyiv came under heavy air attack on Friday as Russian troops entered the Ukrainian capital, imperiling one of Europe's most populous cities and its democratically elected seat of government.
A Russian missile struck a multistory residential building in Kyiv's southeastern Pozniaky district, injuring three people — including one critically — and causing significant structural damage, Mayor Vitali Klitschko said. Ukrainian surface-to-air defense systems intercepted another missile and downed a fighter jet in roughly the same area.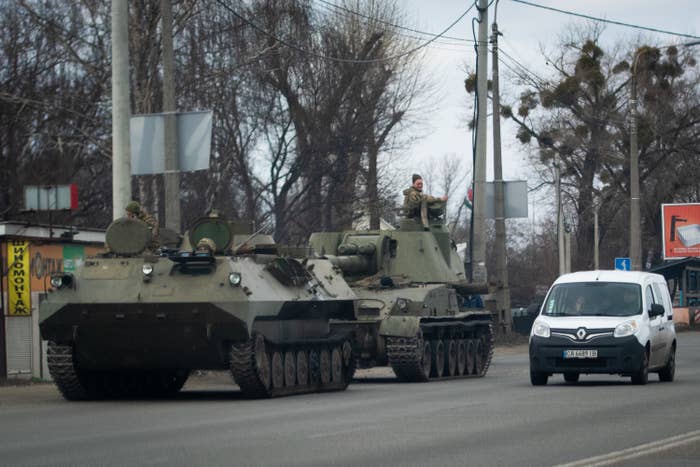 Armored artillery vehicles rolled into Obolon, a neighborhood on the northwest outskirts, as Ukraine's military urged residents there to hunker down and "make Molotov cocktails, neutralize the occupiers!"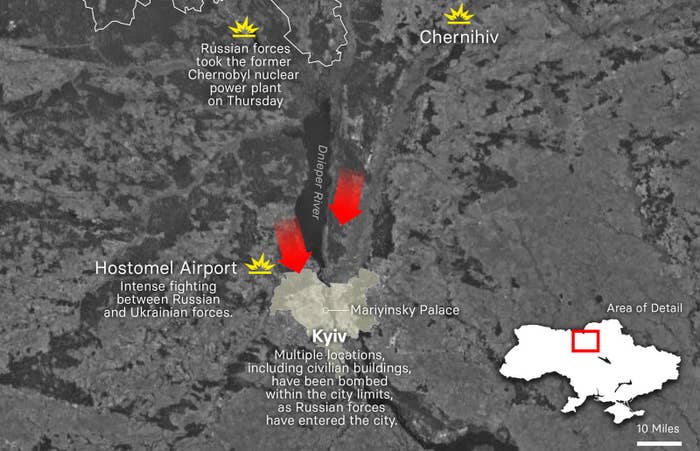 In central Kyiv, BuzzFeed News heard sirens and an announcement over loudspeakers urging people to "immediately go to the nearest shelter." Gunfire rang out in the government quarter, the Associated Press reported.
Guests and staff were evacuated from the Hotel Ukraina, which overlooks the city's iconic Independence Square.
"Last time our capital experienced anything like this was in 1941 when it was attacked by Nazi Germany," Dmytro Kuleba, the country's foreign affairs minister, tweeted early Friday morning. "Ukraine defeated that evil and will defeat this one."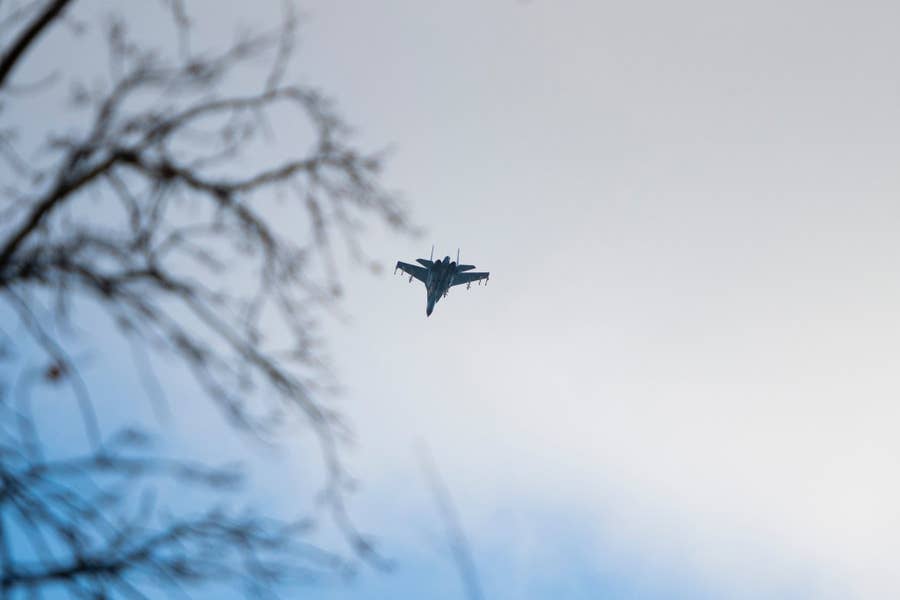 Ukraine's president, Volodymyr Zelensky, said in a video address that he was Russia's " target number one" but would remain at work in Kyiv.
"They want to destroy Ukraine politically by destroying the head of state," he said.
Zelensky added: "Russia's invasion of Ukraine is not just an invasion, it is the beginning of a war against Europe."
Amid rumors in Russian media that he had fled the country, Zelensky later posted a video to social media on Friday evening showing him and his team outside Kyiv's presidential administration building. "We are here. We are in Kyiv. We are defending Ukraine," he said.
Soon, air raid sirens began blaring once again as missiles were fired on the capital. Explosions reverberated across the city, rattling windows and lighting up the night sky with a haunting orange glow.
The fresh onslaught came as the US, UK, and EU all said they would level personal sanctions on Russian President Vladimir Putin and Foreign Minister Sergey Lavrov, freezing the pair's assets.
"Kyiv falling is a real possibility," White House spokesperson Jen Psaki told reporters on Friday as she announced the sanctions.
The streets of Kyiv had been eerily quiet Friday morning, beyond the continuing sound of air raid sirens. Feral dogs roamed squares normally packed with people. Most businesses were closed and those that were open had few customers.
Many of the city's 3 million people spent Thursday night sleeping on their floor, in basements, or in bomb shelters. Thousands sought safety hundreds of feet underground in the Kyiv subway system, which was built after the Second World War.
A centrally located hotel where BuzzFeed News journalists stayed called guests around 3 a.m. local time to ask them to relocate to its shelter, where employees distributed pillows and blankets and offered beanbags to sleep on. Families and businesspeople stayed glued to their phones for news of expected air raids.
Many others chose to flee. Long lines of outward traffic continued throughout Friday after a curfew limiting people's movements ended at 7 a.m.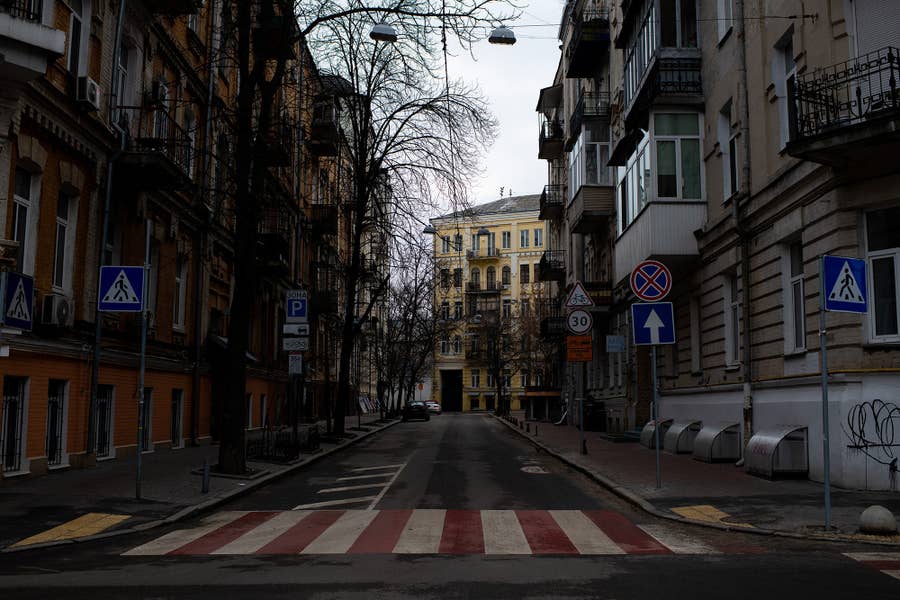 But there were some people who clearly opted to stay — and to fight. Some dressed in camouflage and other military-type attire, while others simply donned neon puffer coats. They were volunteers with the newly created Territorial Defense Brigade of Kyiv, and they carried AK-47 and AR-15 rifles, as well as shotguns. BuzzFeed News saw them standing on nearly every other street corner, beside local government buildings and cultural institutions, and on overpasses around the capital. One man was seen on the outskirts of Kyiv running with a rifle through traffic and jumping into a car that then sped off.
Far from regular soldiers, Ukraine's scrappy territorial fighters look like weekend hobbyists. But according to the Interior Ministry, they dealt a serious blow to Russian troops trying to storm Kyiv, stopping their advance from the northwest.
Russia's full-scale invasion continued apace across the rest of the country on Friday. Hundreds of miles away in the Luhansk region in eastern Ukraine, emergency responders were rescuing people from buildings struck by shelling, officials said. At least six people were rescued and one was killed, according to state emergency services.
Russian President Vladimir Putin ordered the invasion despite tougher sanctions imposed by the international community and widespread condemnation, including from the NATO North Atlantic Council, United Nations, and G7 leaders.
Zelensky on Thursday compared Russia's actions to those of the Soviet Union, describing the invasion as the "sound of the new Iron Curtain that's falling and closing Russia from the civilized world."
He also asked world leaders for "powerful assistance" in fighting Russia on multiple fronts, saying that if they don't, "tomorrow the war will knock on your door."
To that end, President Joe Biden said he was sending additional troops to Germany to strengthen NATO members against Russian aggression, although he made it clear that US forces would not be on the frontlines of the conflict. Instead, he announced new sanctions that included blocking the assets of four large Russian banks, export controls, and sanctioning more oligarchs and their families.
"This is a dangerous moment for all of Europe and freedom around the world," he said.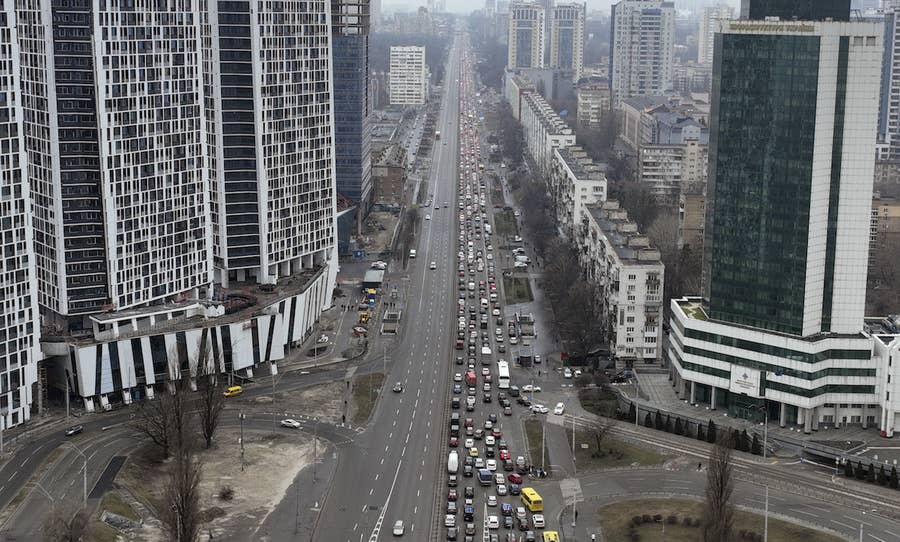 In one of multiple addresses issued Thursday and Friday, the Ukrainian president again pointed to the lack of military support from foreign nations, saying "the world's most powerful forces are watching from afar."
"Did yesterday's sanctions convince Russia? We hear in our sky and see on our earth that this is not enough," Zelensky said. "Foreign troops are still trying to become more active in our territory."
Even before the invasion of Kyiv, Ukrainian officials said they were losing ground on multiple fronts and that Russian forces had seized control of the decommissioned Chernobyl nuclear power plant.
The invasion started with air missiles striking cities across Ukraine in the early morning hours on Thursday, and escalated hours later with ground troops moving over the border from Crimea, which Russia took by force in 2014.
The violence expanded to regions previously untouched by the conflict in eastern Ukraine. Video posted on social media Thursday morning appeared to show a missile hitting Ivano-Frankivsk, a city hundreds of miles west of that front line.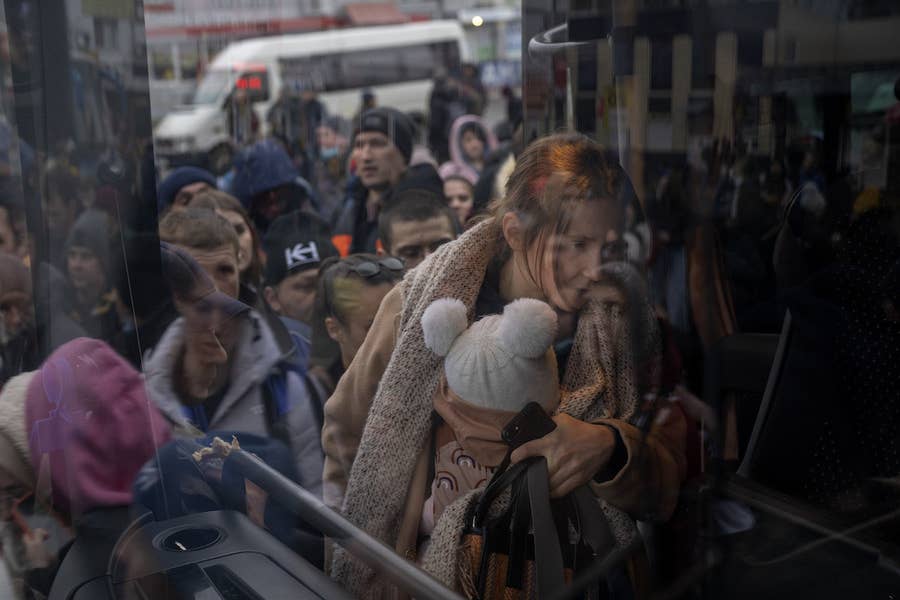 As night fell, the Russian military claimed to have destroyed at least 74 Ukrainian military sites, including 11 airfields. Zelensky said that at least 137 Ukrainians had been killed so far, including both civilian and military casualties, and another 316 people had been wounded. Ukraine's health minister said earlier that the casualties included a boy who died when shelling struck an apartment building.
The situation had started to rapidly deteriorate when on Monday, Putin recognized the "independence" of the eastern Donetsk and Luhansk regions — two areas that actually belong to Ukraine but were taken by Russia during a war it started eight years ago. Reacting to bogus and unproven reports of alleged Ukrainian aggression, Putin then ordered his troops into the two territories on a "peacekeeping mission" in what was widely seen as a false pretext for war. Even though Putin has denied his ambitions to occupy Ukraine, he has also said he sees no reason for the country to exist independently of Russia, and the US suspects his aim is to install his own puppet regime.
Many Ukrainians continue to expect the situation to deteriorate. Friday afternoon the air threat persisted, and BuzzFeed News spotted two Ukrainian fighter jets heading northeast toward Kyiv and then back in the southwesterly direction from which they came.
With inputs from BuzzFeed News
(Except for the headline, this story has not been edited by Kashmir Today staff and is published from a syndicated feed.)